Dinner 'Til Late!
Kitchen open until Midnight Sunday – Thursday
1am Friday – Saturday
Pike Kitchen
Appetizers
---
Shrimp Cocktail
Shrimp served with cocktail sauce, guacamole and crackers. 8.95
Steamed Mussels
Mussels steamed in a garlic white wine sauce. Served with French Bread. 10.95
Chili Cheese Fries
Thick cut fries topped with chili and cheddar cheese. 7.95
Golden Onion Rings
Pabst beer battered. 7.95
Calamari Fritti
Breaded & spiced. Served with lemon and cocktail sauce 10.95
Fresh Ceviche
Fresh assortment of seafood. Served with tortilla chips. Sm 7.95/ Lg 11.95
Pike Wings
Hot Buffalo or House BBQ. Jumbo drumettes with hand cut Pike fries, carrots and celery sticks. 12.50
Hummus Dip
Cajun seasoned, lemon-marinated garbanzo beans and jalapeños. Served with fresh tortilla chips and fresh salsa. 7.95
Fresh Guacamole and Chips
Home made. 5.95
Pike Fries
Hand cut fries. Also available cajunized! Sm 5.95 / Lg 6.95
Soup and Salads
---
Seared Ahi Salad
Mixed greens with cucumber, tomato, red onions, avocado and parmesan cheese, topped with seared Ahi Tuna. Served with house balsamic vinaigrette. 15.95
Chef Salad
Mixed greens with bacon, tomato, sliced egg, Portabella mushrooms and parmesan cheese. 10.95
BBQ Chicken Caesar
With our special BBQMF Coalburner bbq sauce. 10.95
Caesar Salad
8.95
House Salad
4.95
Clam Chowder
4.95 cup / 6.95 bowl
Pike Chili
4th Street award winning. 4.95 cup / 6.95 bowl
Soup Du Jour
Ask your server.
Famous Burgers
---
Served with choice of 1 side. With cheese add 1.00
Pike Burger
With special island sauce on a freshly baked french roll. 10.50
Blue Cheese Burger
Topped with bacon & blue cheese crumbles. 13.95
Whiskey Mushroom Burger
Topped with whiskey marinated Portabella mushrooms 11.95
BBQMF Bacon Burger
Bacon and our famous BBQMF Coalburner bbq sauce. 11.95
Jalapeño Cheeseburger
Roasted jalapeños & swiss cheese. 10.95
Guacamole Burger
Topped with homemade guacamole. 11.50
Pike Veggie Burger
Vegetarian patty, basil pesto, avocado, lettuce
& tomato on a Kaiser roll. 10.95
Fish' N' Chips
Beer-Battered, golden fried sole with hand cut Pike Fries and fresh coleslaw, served with lemon 13.95
Shrimp' N' Chips
6 Jumbo Fried Shrimp, hand cut Pike Fries, cocktail sauce and fresh coleslaw 14.95
Seafood Combo
2 Pcs. of beer battered, golden fried sole and 4 jumbo fried shrimp with hand cut Pike Fries and fresh coleslaw 15.95
Tacos
---
All tacos, except steak, topped with cilantro/cabbage mix, lime crema & cheese. Served with choice of 1 side.
Grilled Mahi Mahi Tacos (2)
11.95
Lobster Tacos (2)
13.95
Grilled Shrimp Tacos (2)
10.95
Baja Fish Tacos (2)
10.95
Portabella Mushroom Tacos (2)
9.95
Steak Tacos (2)
Grilled Top Sirloin, cilantro and sliced onion. 9.95
Burritos
---
Steak Burrito 9.95
Shrimp Burrito 9.95
Sides
---
Fries • Coleslaw • Rice • Veggies
Mashed Potatoes • Refried Beans
Side Salad (Add 1.95) • Onion Rings(Add 2.50)
Cup Of Soup (Add 1.95).
Sandwiches
---
Served with choice of 1 side
Blackened Mahi Mahi Sandwich
Served on a French roll. House tartar on the side. 13.50
Pike "Filet O' Fish" Sandwich
Filet of sole topped with coleslaw. Served on a French roll. 10.95
Seared Ahi Sandwich
With lettuce, tomato and red onion on a french roll. 13.95
BBQ Beef Sandwich
Tri-Tip slow-cooked in amber ale with famous BBQMF Sauce served on a french roll. 10.95
Philly Cheesesteak Sandwich
Top sirloin, swiss cheese, grilled onion, mushrooms and bell peppers on a french roll. 10.95
French Dip Sandwich
Tender roast beef on a toasted French roll. Hot au jus on the side. 10.50
Triple Decker Club Sandwich
Grilled chicken, bacon, lettuce, tomato, red onion & mayo served on sourdough. 10.95
Grilled Pesto Chicken Sandwich
Grilled chicken breast, basil pesto & melted swiss cheese with lettuce, tomato & red onion on a Kaiser roll. 10.95
Whiskey Mushroom Melt
Kentucky whiskey marinated Portabella mushrooms, roasted bell peppers, onions and melted provolone cheese. 10.95
Shrimp Po Boy
Jumbo fried shrimp with Sriracha, Lettuce, Tomato, Red Onion and Pickles. Served on a toasted french roll. 11.50
Grilled Cheese Sandwich
Cheddar and jack cheese on sourdough. 7.95
Buffalo Chicken Sandwich
Breaded chicken breast tossed in our spicy buffalo wing sauce. 10.50
Add blue cheese crumbles (1.95)
Pastas
---
Add dinner salad or cup of soup 2.50
Wild Child Pasta
Grilled chicken in a two tomato pesto cream sauce tossed with penne pasta, pine nuts, portabella mushrooms & fresh basil. 14.95
Buffalo Chicken Mac 'N' Cheese
Penne pasta tossed in white wine and cheddar-parmesan sauce mixed with juicy buffalo chicken. 12.95
Spicy Seafood Pasta
Shrimp, scallops and clams in a spicy, creamy basil marinara sauce. 14.95
Shrimp Scampi
Shrimp sautéed in garlic, white wine, basil, parsley & tomato. Served over linguini pasta. 13.95
Fettuccine Alfredo
Fettuccine pasta tossed in a lemon parmesan sauce. 10.95 Add chicken or shrimp 3.95
Mains
---
Served with sautéed seasonal vegetables and garlic mashed potatoes. Add dinner salad or cup of soup 2.50
Wild Local Sea Bass 18.95
Grilled Atlantic Salmon 15.95
Seared Ahi Tuna 15.95
Grilled Mahi Mahi 14.95
Meatloaf Dinner
Homestyle recipe. 10.95
Grilled Top Sirloin Steak
10 ounce USDA choice sirloin 13.95
Steak And Shrimp
6 ounce USDA choice sirloin and (4) fried shrimp. 17.95
Desserts
---
The Battleship
Chocolate Sundae Pike style. 8.95
Brownie Sundae
6.50
Chuck's Cheesecake
Various flavors. Ask your server. 6.50
Beers on Tap
---
Pabst Blue Ribbon
Coors Light
Modelo Especial
Pizza Port Chronic Amber
Allagash White
Maui Coconut Hiwa Porter
Boochcraft Kombucha
Two Coast Pilsner
Beachwood LBC IPA
Offshoot Relax It's Just Hazy IPA
Honest Abe Seasonal Cider
Brewery Wit The Funk Sour
Seasonal beers rotate weekly! Ask your server.
Bottled Beer
---
Brouwerij West Special Release
Maui Brewing Bikini Blonde
Mother Earth Cali Creamin'
Lost Coast Great White
Stiegl Grapefruit Raddler
Guinness Draught Can
Belching Beaver Peanut Butter Stout
Samuel Smith Organic Lager
Three Philosophers Quadrupel
Petrus Aged Sour Ale
Stone Arrogant Bastard
Mammoth Double Nut Brown Porter
Corona
Pacifico
Red Stripe
Negra Modelo
Heineken
Bud Light
Miller Lite
Cider & More
---
Golden State Apple Gingergrass Cider
Perry Miloslawski Pear Cider
2 Towns Strawberry Haze Cider
White Claw Mango hard Seltzer
Fine Wines
---
Whites
House White – Protocolo, 2017 (Spain)
Pinot Grigio – Campagnola, 2017 (Italy)
Sauvignon Blanc – J. Lohr, 2017 (Monterey, CA)
Chardonnay – Fantini, Italy
Reds
House Red – Monte Antico, 2014 (Toscana, Italy)
Cabernet Sauvignon – Old Soul, 2016 (Lodi, CA)
Pinot Noir – Storypoint, 2016 (Sonoma, CA)
Rosé
Tangent (Edna Valley, CA)
Sparkling
J.P. Chenet Sparkling Rosé Split (France)
Canella Valdobbiadene Prosecco Split, D.O.C.G (Italy)
Bailly Lapierre Crémant de Borgogne (France)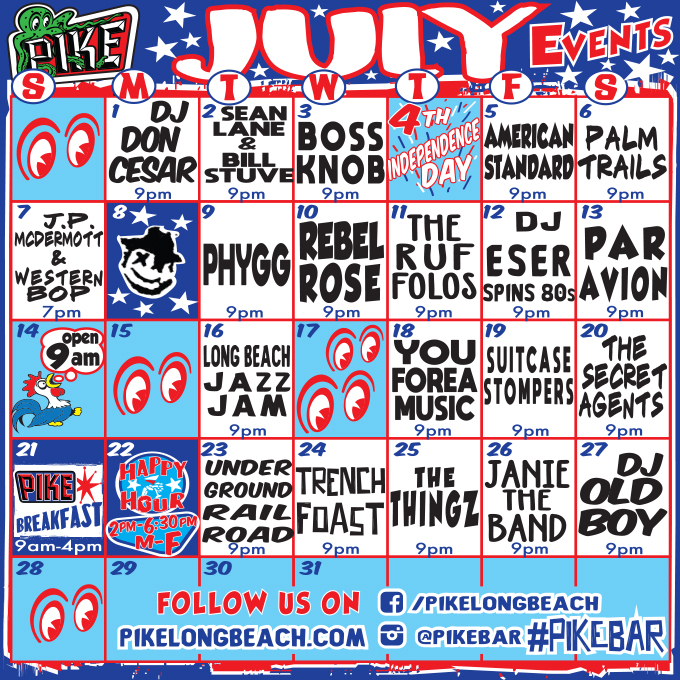 On the corner of 4th and Hermosa on Retro Row in Long Beach, California
1836 East 4th Street, Long Beach, CA, 90802 | 562-437-4453 | pikerestaurant@yahoo.com
Drummer Chris Reece of Social Distortion fame owns and operates The Pike Restaurant & Bar in Long Beach, CA.
A restaurant by day and kick ass live music venue by night. Come see what we are all about!
@Copyright 2019 Pike Restaurant and Bar. All rights reserved.